Improve Your Home with Wood Look Tile in Des Moines, IA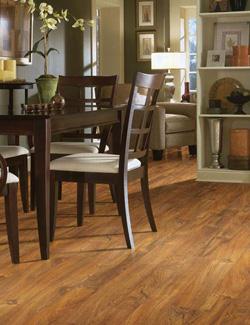 When you are looking to improve the look of your home with a beautiful new floor, then Flooring America Clive has the solution you need. We offer beautiful wood look tile in Des Moines, IA, to mimic the look of hardwood while providing the durability and longevity of tile. With these tiles, you can even add a wood look to areas of your home where wood is traditionally not a good option, like in bathrooms or kitchens.

Many Design Options
By choosing wood like tile for your home, you give yourself a near limitless number of designs to choose from. Our showroom offers a number of colors, shapes, and patterns, to let you find the wood plank porcelain tile that fits into your project plan. This way your new floor matches the existing décor of your home or becomes the base of your updated aesthetic.
Additionally, if you are unsure of what design you are trying to achieve and need help to find the right colors for your home, then our team is here to help. Our flooring experts understand the importance of having a strong design plan and will work with you to determine your flooring needs. With our help, you will have no issue finding the wood plank ceramic tile that fits perfectly into your home.

Outstanding Moisture Protection
One of the significant advantages of a tile floor is that it is highly resistant to moisture. Tile does not absorb water, meaning it will not contract or expand when it gets wet. This gives you peace of mind that your new surface will not warp from prolonged exposure to water.
It is this moisture resistance that makes a porcelain or ceramic wood tile floor such an excellent option for your basement or laundry room. Additionally, this moisture protection makes tile easy to maintain. Spills wipe away quickly and because they don't absorb into the material, there is less chance of your floor staining. This means that even in a busy kitchen your new floor will keep its great look for years.

Complete Installations
At Flooring America Clive, we also offer new flooring installation services. Our professional team is equipped to correctly install your new ceramic or porcelain wood tile surface. This ensures that your new tile floor looks as exceptional in your home as it did in our showroom and that it is providing the resilience that you would expect.


Contact us when you are looking for wood look tile for your home. We proudly serve Des Moines, Clive, West Des Moines, Urbandale, Grimes, Cumming, Norwalk, Indianola, and Perry, IA, as well as the surrounding areas.