Strong and Beautiful Waterproof Floors in Des Moines, IA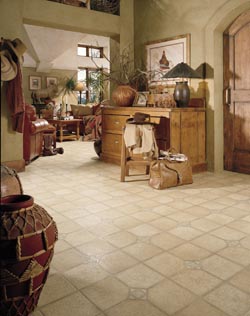 Elevate the appeal, strength, and value of your interior at Flooring America Clive. We are your source for waterproof floors in Des Moines, IA. At our showroom, we take all of the hassle and complexity from your remodeling project. Whether you are re-flooring a single room or your entire home, we are your destination for flooring. With our vast selection and customer approach to service, your project is in good hands.
Water-Resistant Flooring is a Smart Choice
There are many advantages to investing in waterproof flooring. As its name suggests, this category of flooring is highly resistant to water. Liquids have a hard time staining this flooring type, which means these floors are also easy to clean and maintain.
Water-resistant vinyl flooring has become a popular choice, thanks to its design versatility and everyday dependability. Vinyl flooring is comprised of composite materials, which resists bumps, impacts, and scrapes easily. On top of its ease of maintenance and durability, vinyl flooring can fit in any room and design motif.
Take, for example, waterproof luxury vinyl planks. This flooring option is available in a variety of different designs and styles. It can even take on the appearance of other flooring products like solid hardwood! At our showroom, you can explore the interior design options that vinyl flooring can give -- all without needing to sacrifice form or function.
Common areas and bedrooms are meant for rest and relaxation. Water-resistant carpet is a good choice for homeowners who are looking for a flooring material that is comfortable, strong, and visually appealing. Our waterproof carpet options are constructed with specialized fibers and dyes that repel liquid, making spills easier to clean up. These features are especially handy if your home also includes pets.
Your Source for Waterproof Flooring Options
Hands down, we are your destination for waterproof flooring. Explore our extensive catalog and find the products that will meet your needs. Whether you are thinking about a pet-friendly common area or planning a kitchen or bathroom remodel, there is a flooring product waiting for you at our showroom. We have teamed up with the leading brands and manufacturers to provide a versatile, wide-ranging selection.
Browse our samples, find your favorites, and complete your water-resistant flooring installation project. Our showroom staff is highly knowledgeable, and our team members stay up to date with the latest developments in the flooring industry. As such, you can come to us with questions and get answers. Simply put, we are your dependable resource on water-resistant floors.
Contact us to learn more about our waterproof flooring options. We serve Des Moines, IA, including Clive, West Des Moines, Urbandale, Grimes, and the surrounding communities.