Tile Flooring in Des Moines, IA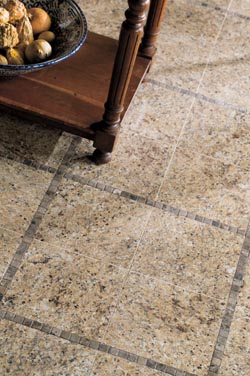 Whether you opt for ceramic, slate, or porcelain tile, you make a smart decision when you shop at our store. Our flooring showroom is designed for customers to make a decision they are proud of and ready to show off to friends. From start to finish, we offer our patrons a satisfying tile flooring experience. Sales experts greet you as you enter the store, prices are always fair, and after installation you are backed by our company's guarantee.
Our friendly, professional, and knowledgeable associates know flooring like no one else. While browsing the store at your convenience, you can also get assistance from us at the extent you prefer. From selection to tile flooring installation, we are here to answer all your questions about floor tiles to solve your design dilemmas. You'll never have to visit another flooring store once you make us your go-to team of flooring experts.
Ceramic Tile and Other Options in Our Showroom
There are thousands of options available in our showroom, with a full range of tile flooring styles to match all client preferences. Our flooring specialists can explain all of the benefits of ceramic tile as they show you our expansive in-stock selections. This is one of the most popular types of flooring chosen by both home and business owners because of its durability, eco-friendliness, and easy maintenance. Areas with high amounts of foot traffic can easily withstand tile floors.
Tile floors are known for their versatility. They resist scratches, dents, moisture, fire, and frost, making them an ideal flooring option for bathroom and kitchens where a liquid spill could compromise the integrity of other floor coverings. This is often the choice of commercial clients as well because of its beauty and style plus durability. In addition, it is easy to clean where just the swipe of a cloth or a mop removes moisture or stains such as dirt or loose particles from foot traffic. When you want a tile floor, rely on our experts to show you the light.
Tile Floors That Fit Your Lifestyle Needs
Let us know about your lifestyle so we can help you find tile flooring that works for you and your family. Do you run a busy household with small children and pets? We have solutions. Are you settling into a low-key lifestyle, looking for re-floor your cozy space? We have solutions for you, too. As professional floor specialists, we have a database of knowledge to help you select the ideal flooring tile. Whether you are dedicated to being ecofriendly in your decision or you only care about complementing your personal design preference, we consider your preferences during selection. Reach out to us if you need tile experts to rely on. Some of the most popular tile materials sold in our store include:
Slate
Ceramic
Porcelain
Marble
Granite
Faux Wood Look
Travertine
Other Natural Stones
Add Value to Your Home with Slate Tile
Slate tile flooring is growing in popularity because of the value it adds to the homes and office. This high-end material is beautiful once installed and never goes out of type. We are pleased to carry a number of slate options, in a variety of tile widths. Aside from being a classic look that adds unmatched elegance, slate tile provides a number of benefits to the buyer including:
Stain-Resistance in Case of Spills
Water and Humidity Proof
Not Wearing Down with Heavy Foot Traffic
Design Features to Match Your Preferences
The Potential to Last Decades
Bringing Your Flooring Designs to Life
Make your flooring visions a reality. From light and dark neutrals and earth shades, to yellows, greens, and blacks, our tile floor is chock-full of options. We're bound to carry the tile flooring that best suits your needs in looks, performance, and price. Our showroom displays samples and names of all our tile selections so you can easily browse what we carry! We keep the store organized in an easy to decipher pattern. Each area of the room is divided by types of flooring style, which makes it easy for you to find the tile. The possibilities are virtually endless.
Careful and Professional Tile Flooring Installation
In addition, we offer tile flooring installation so you can rest easy knowing that one of our experienced and knowledgeable professionals has done the job right. It is easy for you to schedule an appointment at your convenience. Our installers show up on time, keep the workspace clean, and treat your family with all consideration.
A proper installation is just as important as the quality of the floors you purchase. Protect your investment with flooring that is installed properly. In order for your floors to look great and last long, there must be meticulous grouting and proper alignment. Our professionals have the tools to cut your tiles evenly for placement against bathtubs, cabinets, and other flooring styles. Our tile flooring installation team makes it easier for you to get new floors without any problem.

Contact us today to schedule an appointment with our flooring professionals about tile flooring. We are proud to serve clients in Clive and Des Moines, IA as well as the surrounding areas.