Tile Flooring in Des Moines, IA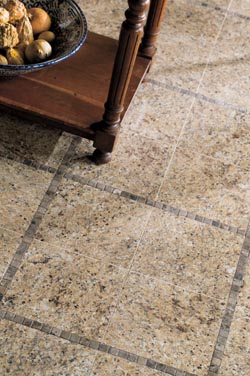 Upgrade and enhance your home with ceramic, stone, or porcelain tile flooring in Des Moines, IA. At Flooring America Clive, we carry tile of all shapes, sizes, and materials to meet every customer's needs.
As a durable flooring option, tile has been around for centuries and remains a popular choice for many homeowners today. This longevity is thanks to tile being simple to maintain while looking great in any room. Additionally, because tile is moisture resistant, it is a fantastic option for humid environments such as kitchens or bathrooms.
A Natural Flooring Choice
When you are looking for a surface solution that is, both natural and resilient, then tile is the right option. From the rugged look of stone to the polished refinement of porcelain and ceramic tile, there is a diverse selection for you to choose from for your home.
If you are concerned about the look of your floor diminishing over time, then rest easy with a tiled surface. It will stand up to the foot traffic in your busy household thanks to being both stain and scratch resistant. This resilience makes tile perfect for any room including outdoor patios.
Limitless Design Potential
Because tile is available in so many patterns, colors, and shapes, the design potential of your rooms is limitless. From the traditional appearance of stone to the intricately shaped patterns of ceramic bathroom tile, your design is left to your imagination.
If you are uncertain of what design or materials would work best in your space, we are always here to help. Our flooring designers are tile experts and will work with you to find the right solutions for your property. Come into our showroom to discuss your design plans with us while you explore our vast collection of tile surfaces.
Feel Confidence with Our Installation Service
When you purchase new flooring for your property, the best way to protect it for years is to let our team handle your tile flooring installation. The task of installing tile correctly is difficult work, requiring the right tools and experience that our team provides. We will ensure that your new surface is properly laid out. With our team handling the installation, your new floor will look as good in your home as it did in our showroom.
Contact us when you are looking to update your home's flooring with tiles. We proudly serve Des Moines, IA, and the surrounding areas.