Luxury Vinyl Tile in Des Moines, IA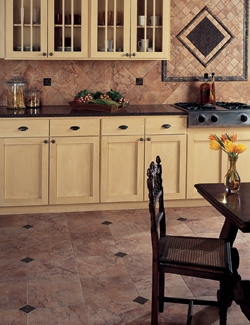 Flooring America Clive offers a wide selection of luxury vinyl tile for Clive residents. This type of flooring is an industry-leading alternative to types of flooring like hardwood and tile. While having the appearance of these classic types of flooring, without the additional cost or maintenance, many homes are making the switch to luxury vinyl tile. Clive homes can now benefit from this flooring by visiting Flooring America Clive to view our vinyl flooring options!
Luxury vinyl flooring emulates the appearance of other, more costly flooring types. The selections of luxury vinyl tile in Clive we offer beautifully resembles a variety of natural stone and ceramic tiles, for a fraction of the cost!

Flooring America Clive: Luxury Vinyl Flooring Options
Our comprehensive selection of luxury vinyl flooring in Clive would not be complete without vinyl plank flooring! This plank-style flooring perfectly replicates the appearance of traditional hardwood flooring. Available in different wood grain levels and wood stains, you can achieve the appearance of hardwood floors with luxury vinyl planks. Clive residents need only stop by Flooring America Clive today!
Accompanied by a more affordable price tag, luxury vinyl flooring offers Clive homes the right amount of classic appeal while also updating the appearance of its interior. You won't have to worry about moisture damage or warping with resilient and durable luxury vinyl planks in Clive.

Vinyl Installation in Clive
If all the perks of vinyl flooring have convinced you it's the right solution for you, it's now time to consider installation! At Flooring America Clive, vinyl installation is just another way for us to meet all of your flooring needs. For a reasonable price, our trained technicians will install your luxury vinyl tiles or planks efficiently and accurately, ensuring the optimum level of performance from your flooring.

Benefits of Vinyl Flooring for Clive Residents
Whether you choose a hardwood designed luxury vinyl plank or a decorative luxury vinyl tile, your Clive home will immediately benefit from the positive features of vinyl flooring. In Clive, we educated our customers about the perks of vinyl flooring, that way they can be confident knowing they made an informed decision. Here are some of the benefits that our luxury vinyl flooring in Clive offers:
Resilience to Impact Damage
Resistance to Moisture and Staining
Able to Withstand Heavy Foot-Traffic
Variety of Designs
Low Costs
Easy Upkeep


We're proud to serve customers throughout Clive, Des Moines, West Des Moines, Urbandale, Grimes, Cumming, Norwalk, Indianola & Perry, Iowa.