Exceptional Luxury Vinyl Planks in Clive, IA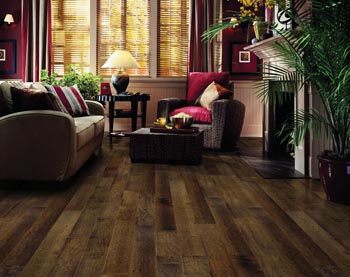 For decades, when people thought about vinyl flooring, they thought about utilitarian flooring that can stand up to heavy wear and tear, but left a lot to be desired when compared to more attractive natural stone or hardwood flooring. Through many years of cutting-edge research, however, there has been a breakthrough in how vinyl both looks and works in your home. Allow us to introduce you to luxury vinyl planks in Clive, IA.
Bringing all of the durability you have come to expect from vinyl, this LVP flooring has something that previous vinyl options didn't have — the ability to perfectly mimic other flooring options. Flooring America Clive wants to amaze you with just how impressive our luxury vinyl planks are as we place them side-by-side with authentic hardwood and natural stone floors and show you just how hard it is to tell them apart.
A Floor that Looks Good & Remains Functional
You have plenty of ideas about what types of flooring will look good in the different rooms around your home. Some types of flooring, however, have some different ideas. Moisture, wear, and tear are real threats to a lot of different types of floors, but luxury vinyl planks are not one of them. Instead, this type of flooring thrives when challenged, which means it continues to look good whether it is located in your kitchen, bathroom, or basement.
Soft and attractive, our LVP floors are designed to look exactly like attractive hardwood or natural stone options. The attention to detail is so impressive in luxury vinyl, that you can even choose the exact type of grain you wanted. They also won't warp, wear, or tear in moisture-prone spaces.
Come down to our flooring showroom to take a look at our impressive flooring options for yourself. Our helpful, knowledgeable staff is ready to answer any questions you have while guiding you towards the type of flooring that best fits your needs, desires, and budget.
Luxury Vinyl Plank Installation Services
Ensure you get all of the benefits that come with your new flooring by choosing our luxury vinyl plank floor installation team. Our skilled specialists understand how to properly install your brand-new floor, and will perform all of the work the right way the very first time. With our help, your LVP is going to look and work just as good in your home as you hoped it would the day you picked it out at our showroom.

Contact us to find out more about our luxury vinyl planks. We proudly serve customers in Clive, Iowa, and the surrounding areas.