Flooring in Des Moines, IA, from Trusted Providers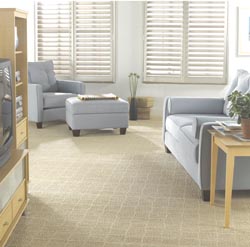 It's time to refresh your space with quality flooring in Des Moines, IA. There's no question that a stunning new surface can improve your home's beauty, value, and comfort. The only thing that's uncertain is where you should search for the best in materials and service. At Flooring America Clive, we want to take care of that last concern.
Offering a full team of friendly professionals with a boundless well of knowledge about floors to fall back on, we are the definitive destination for superior surfaces. At our state-of-the-art showroom, you can explore a vast array of products that utilize coveted surfaces such as:
As the flooring store that more local shoppers trust, we pride ourselves on dependability and first-rate service. No matter what material you're in the market for, we'll help you make the most of it and extend your investment as far as possible. At our showroom, you have the freedom to design and shop your way.
The Flooring America Advantage
Each product we sell comes with distinct benefits that you can use to craft your ideal space. No matter what you buy, however, you'll enjoy the same great service and selection.
Why? Because, as part of a nationwide network of locally owned home flooring retailers, we have the ability to combine massive buying power with focused, personalized, and attentive customer care. You don't have to compromise on your freedom of choice or the quality of your shopping experience — at our showroom, your needs always come first.
It's this blend of capability and care that makes us the most recommended store for exceptional floors in the area. Customers send friends and family to us because we deliver the right products and assistance to create ideal results for their projects.
No Help Held Back
As part of our mission to supply customers with the best flooring brands, we do everything in our power to leverage our knowledge to your benefit. One way we help many shoppers is through information on floor maintenance.
Knowing how much work it takes to upkeep a given surface is a crucial part of making an informed purchase. We can help you match a product to your personal preferences, whether you want future resurfacing potential or minimal maintenance. Regardless of your level of experience or style, you can get the look you want and the help you need to make it last at Flooring America Clive.
Contact us today to speak with one of our dependable surface experts. We proudly serve Des Moines, Clive, Norwalk, Indianola, and Perry, Iowa, as well as the surrounding areas.