Hardwood Flooring in Des Moines, IA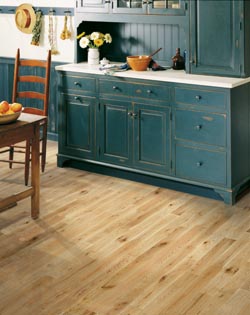 There's nothing quite as timeless or classic as hardwood flooring. Used in homes for centuries, you simply can't go wrong by choosing to place wood floors in a single room or throughout the entire space. Replacing old, damaged or worn flooring guarantees to boot the value and appeal of your house. Replacing floors like this with a high-end hardwood product exponentially increases the results you receive.
We offer a selection of elegant wood that features the industry's most popular fashions and styles. By utilizing the Flooring America name to purchase quality options on engineered, solid, and unfinished hardwood, we save on an inventory of brand-name materials. We pass the savings directly on to you, to ensure you find the perfect wood floors for a fraction of the regular price.

Why Choose Engineered Hardwood?
Our experts provide you with the guidance and product knowledge you need to decide what type of wood flooring will work best in your home. You simply tell us about your interior design goals, your lifestyle, and your budget, and we recommend solutions that are sure to satisfy within your space.

An increasing popular wood option for busy households is engineered hardwood. As opposed to traditional hardwood, this engineered product is made up of layered materials and topped with a thin layer of real wood. Engineered planks tend to be more flexible than their solid counterparts, making them less likely to warp over time. Because of this, they are ideal for humid, damp, or wet areas, including finished basements, kitchens, and bathrooms. By choosing engineered hardwood floors, you get the same beautiful look you desire, along with even more durability.

Offering a Wide Range of Solid Hardwood Species
The natural craftsmanship of solid hardwood makes it a unique and beautiful flooring masterpiece in the homes of local residents. Over time, the floor planks incur variation. This provides the floor with character that lasts its entire lifespan. To extend the lifespan of solid hardwood planks, it can even be refinished in future years. Maintenance always remains easy, and the aesthetic benefits are impressive.
With a wide range of wood species to choose from, you are sure to find the perfect plank to match your existing interior design. The following are only some of the species carried at our store:
• Hickory
• Maple
• Cherry
• Oak
• Ash

Unfinished Hardwood Flooring Also Available
In addition to hardwood floors that can be installed immediately after purchase, we also offer a selection of unfinished hardwood flooring. These unfinished planks are scraped, stained, and finished by hand after they are placed in the home. From rustic and charming to sleek and modern, we are able to deliver the exact look you desire for any room. We would be happy to work with you to ensure that your investment in beautiful, custom flooring satisfies you in every respect.

Professional Hardwood Flooring Installation
We understand that you want your investment to hold up well far into the future, which is why it's important to invest in proper installation. We offer hardwood flooring installation services supported by the most trusted materials, products, and methods. Our installation technicians boast years of experience and training, allowing them to perform every job in a timely manner. With the help of a certified installer from our team, you can rest assured your wood flooring is installed the right way.
Even after installation, we remain committed to the satisfaction of clients. With qualifying floors, you get to take advantage of the industry's most impressive guarantee, which we call the Ultimate Guarantee. This guarantee is a promise that if you are unhappy with your new flooring within 30 days, we'll replace it at no additional cost. All you have to do is get in touch with us within 30 days of the initial installation.

Call to learn more about the hardwood selection available at our local store. We're proud to serve customers in Clive, Des Moines, West Des Moines, Urbandale, Grimes, Cumming, Norwalk, Indianola and Perry, Iowa.