Flooring Installation in Clive, IA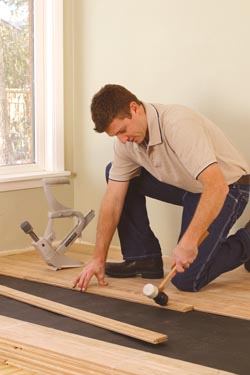 Leave your flooring installation project to the experts when you work with the crew from our flooring store. We answer all of your questions from the beginning to end of your new floor installation project. You can count on us for these installation services:
Vinyl installation
Laminate installation
Hardwood installation
Have your floor installed by a company that trains and supervises each installer. Our Star Service program ensures that our installers provide you with superior quality and professionalism during your project. Trust us to take care of your home during your installation. Updating the flooring is a great way to spruce up your bathroom. Our crew is not able to disconnect or remove your commode. Please arrange for this to be completed before your flooring installation appointment


Prepare for Your New Floor Installation
Let us help you remove the old flooring for a small additional fee. The total cost is based on the amount of time our crew spends on the job. Because many old vinyl products contain asbestos, you must hire a licensed asbestos-removal contractor for that type of flooring.
Ensure a stress-free new floor installation with our help. Keep your most fragile belongings safe by moving them out of the room where we are working. This includes breakables such as porcelain, china, and crystal as well as any delicate decorative items. It is also a good idea to remove wall hangings, pictures, and draperies, as these items can limit the movements of your installers. If draperies cannot be removed, please secure them so they are at least 36 inches above the floor.
Maintain a temperature of at least 65 degrees in your home during the entire installation process. This protects new flooring materials like carpet and vinyl. Installers use power tools during some jobs, so it is also important to ensure that the electricity outlets are reachable, functional, and turned on.


Laminate Installation in Kitchens
There are a few additional considerations for new floor installations in your kitchen. Because some appliances require special handling, it is important to arrange for them to be moved prior to your laminate, vinyl, or tile installation project. This includes disconnections and hookups of icemakers and gas appliances.


Expert Tile Installation Services
Tile is a great choice for closets and storage areas because it is durable and easy to clean. We ask that you clear these areas to enable our workers easy access to the entire area. This means that long-hanging clothing and other items must provide a 36-inch clearance for workers.


Hardwood Installation in Your Home
Whether you are choosing your hardwood installation for a living room or bedroom, count on our team to move regular furniture. Because some items like waterbeds, aquariums, console pianos, and grandfather clocks require special handling, we ask that you schedule with us in advance. An additional fee may be required. Please note that we are not able to move wood stoves, grand pianos, or pool tables.

Contact us today to update the flooring in your home. We proudly serve the communities of Clive, Des Moines, West Des Moines, Urbandale, and Grimes.