Floor Care and Cleaning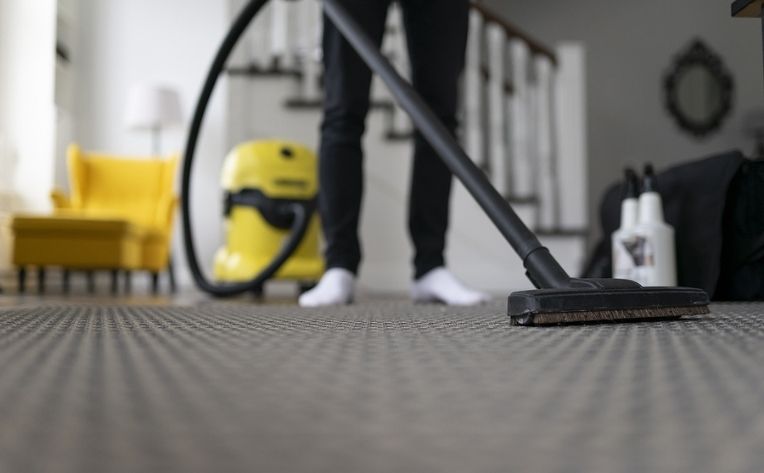 Jun 22, 2022
When you're looking to purchase something that will be a permanent fixture in your household for the next five to 15 years, such as a carpet, you'll probably want to consider all the factors. You might think about what pattern best complements the couch in the living room, how soft the pile is, what kind of warranty it comes with, and what your next-door neighbor has to say about the carpet she has in her bedroom. Don't let false rumors negatively influence your thoughts about installing carpets in your home. We've compiled and debunked the top five prevailing myths about carpet flooring.
Myth 1: Carpets are hard to clean
Let's face it—cleaning is never the most exciting thing to do. Just like couches, sheets, dishes, pools, front yards, and more, you have to put in the time, energy, and sometimes even money to keep a carpet in mint condition. However, unlike carpets of the past, modern carpet products are relatively easy to maintain—you will just need to vacuum weekly and do an annual deep clean. If you choose to get a different flooring option other than carpeting, your chores will entail sweeping and mopping regularly and budgeting for the inevitable costs of extra maintenance like waxing, polishing, buffing, and stripping, to name a few. No matter what flooring decision you make, you must put in a little elbow grease to take care of it. But if you're looking for something that is low-maintenance and already love the look, commit to carpets!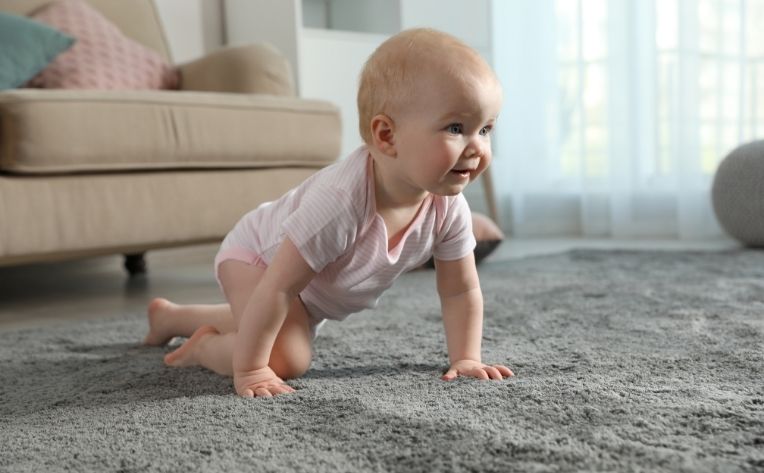 Myth 2: If I have asthma or allergies, I should not even look at carpets
People think carpets are worse for individuals with asthma or allergies, yet modern research has proven otherwise:
A recent study from Airmid Healthgroup reports that as long as homeowners clean carpets regularly, they do not threaten those affected by allergies or asthma.

Carpets can trap allergen-causing particles

and stop them from becoming airborne, so they're less likely to be inhaled.
So don't be swayed by this common misconception about carpets. Conduct your own research or consult with your doctor, but don't let unfounded fears impact your flooring decision.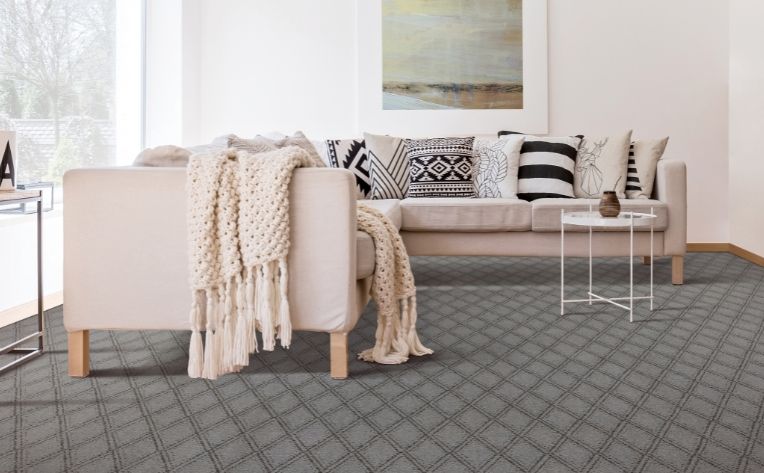 Myth 3: There's formaldehyde in carpets
This is an outdated truth; carpet manufacturers used very low chemical levels way back when but have not since 1987. Any carpet that you buy today will have zero traces of formaldehyde.
Myth 4: Carpets are not environmentally friendly
Across the entire carpet industry, there have been great strides in sustainability and being environmentally conscientious.
Our Green Select products fit into the strict criteria of being ecofriendly and reflect our commitment to being a part of the solution. Learn more about this here.

The Carpet and Rug Institute (CRI), which comprises over 90% of the industry's manufacturers, has kept over 5 billion pounds of carpet from ending up in landfills.

Carpet manufacturers have also decreased the amount of water and energy they use to create carpets and use recycled materials to help reach their goal of zero waste.

Additionally, you will not have to use as much heat during the winter due to carpet flooring's inherent insulating properties.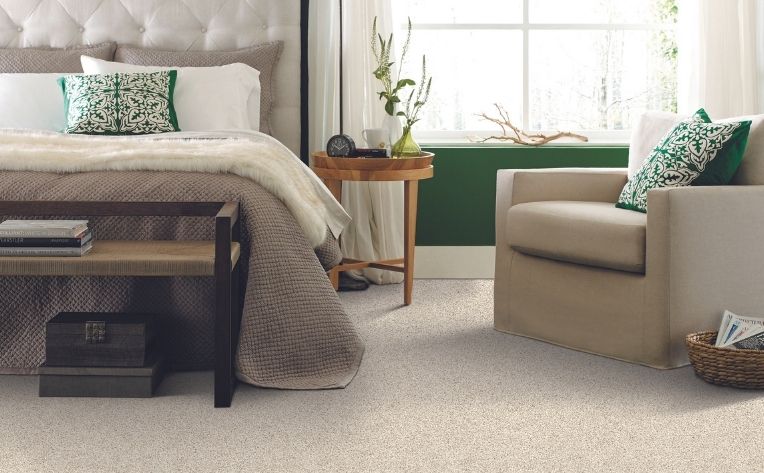 Myth 5: Installing carpet is inconvenient
Truth be told, installing any kind of flooring plan can be inconvenient if, and only if, you don't properly research and prepare for it. We have compiled resources such as:
Better yet, if anything does go wrong, we have a lifetime warranty on carpet installations, so installing your dream carpet will be a stress-free process.
Now that we have disproven all those myths about carpets, let's focus on some truths. Carpet flooring can be a great fit for your home as it is the safest flooring option due to its soft nature, sound-deadening qualities, and non-slip surface. Interested in learning more? Contact one of our experts to find a carpet that fits your style and complements your flooring needs.
Continue Reading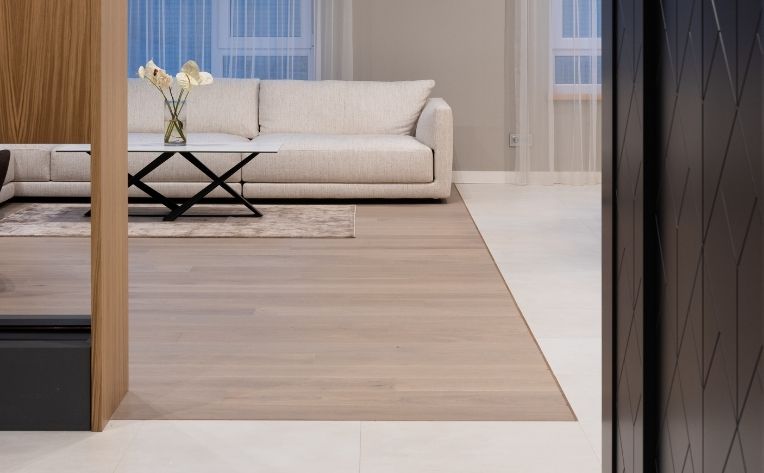 Apr 27, 2022
Floor transitions may not be the first thing you think of when planning a home renovation. Most likely, you're caught up in the vinyl vs. laminate debate or considering whether carpet is too risky for your messy household or trying to pick the perfect tile. We understand! But transitions between floors are an important component in any home to make sure all your floor design choices blend seamlessly from room to room.
Now, what do we mean by floor transitions? Think of a classic door threshold—that raised strip that you step on or over when entering a room. Without floor transitions, we would have frayed carpet edges running up against unfinished hardwood planks or tile grout. Thresholds—the object and the word itself—originated from medieval farmhouse floors, which were covered in straw and hay. That debris (thresh) would scatter when the wind came through the door, so they fastened planks across the bottom of the doorway to keep the thresh out—hence the "threshold" came into existence.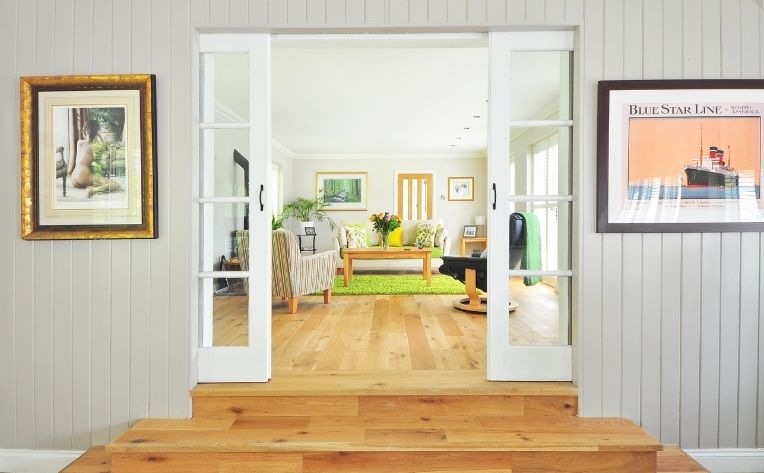 Now our floors may be a little cleaner than those of medieval farmhouses, but floor transitions are still important when shifting between different types of floors.
Gone are the simple days when every room in a house had the same type of floor. With options that match your needs in each and every room in your home, you're likely to have at least three different floor types, and each of those requires a transition.
The good news is that there are different types of floor transition strips that make it easy to have a safe switch between all types of flooring—no tripping hazards here.
Your first thought might be to choose the least noticeable floor transition so it doesn't distract from your beautiful floors, but there is a benefit to clearly marked floor transitions. While floor trims may trigger many toddler trips, for the more seasoned walker, an obvious floor transition helps us anticipate a change in flooring texture and elevation, keeping us from tripping.
Transitioning between Floors of Different Heights
When planning a carpet transition to tile (like from your living room to kitchen) you'll need a door transition with an aluminum strip that grips the carpet and accounts for the difference in height between the carpet and the tile. Floor transition strips can come in vinyl or hardwood –the latter of which can be stained to match the color of the adjoining floor.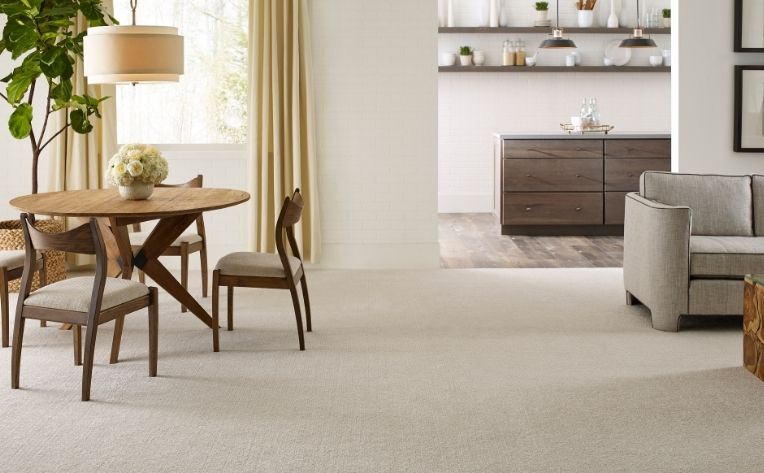 There are also transition strips designed to provide a seamless transition from laminate flooring to tile flooring. They feature molding that matches the different thicknesses of the flooring, so you can moonwalk from room to room with ease. Even a transition between uneven floors can be made smooth with the proper floor trim.
Transitioning between Floors of the Same Height
Open floor plans are all the rage these days, which means you might need a different transition between your floors than the traditional doorway threshold. Here are a few ways:
Perpendicular Planks: It usually just takes a perpendicular plank of wood or tile to make a transition that's easy on the eye, but when the floors are the same height, there are more unique design options to consider.
Accent Borders: A thin accent border can help ease the transition between two types of floors. This border can be made of the same materials as one of the floors, or you can add an accent by choosing bold or mosaic tiles.
Interlocking Floors: Another option is to make an interesting transition from tile to wood—or a wood lookalike—by cutting your wood floors to interlock with the edges of the tile. This works with square, diagonal, hexagonal, and even scalloped tile.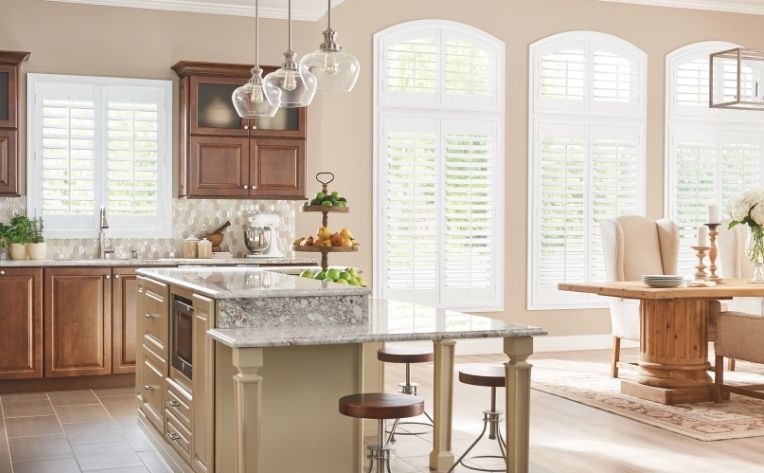 Wood Composite Shutters by Graber
No matter what floors you have, your local Flooring America experts are here to help you create a seamless transition between them. They're happy to help with all your projects big and small, so visit yours today.
Continue Reading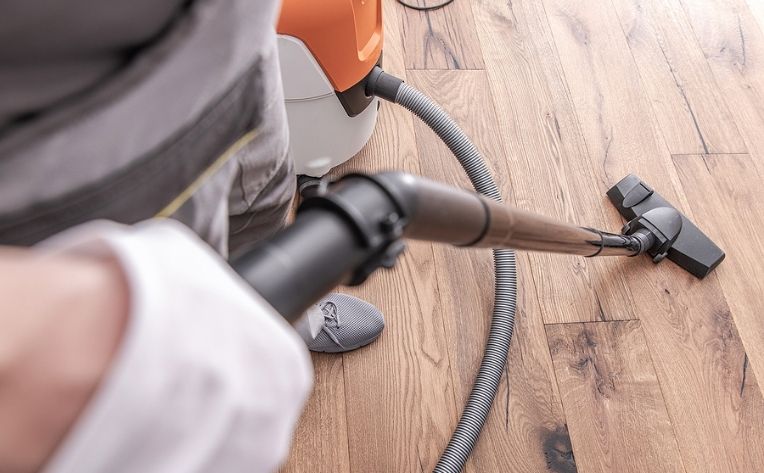 Mar 28, 2022
It's hard to keep your floors clean. Kids are messy, pets (and people) shed, and there's that one family member who never learned to wipe their feet on the welcome mat. The good news is that it's easy to clean hardwood floors and keep them in tip-top shape if you know a few simple methods.
Dry Cleaning
Don't worry; dry cleaning your floors isn't as inconvenient (or pricey) as dry cleaning your clothes. The first and most regular step of cleaning your hardwood floors should be vacuuming, sweeping, or dry mopping your floors weekly. If you have pets shedding all over your floor or kids making Hansel-and-Gretel-inspired trails of crumbs, you may want to do this more often. These crumby particles are more than just frustrating to feel under your bare feet. They can cause tiny scratches in your flooring, which can wear down the finish on your floor, causing them to look dull over time.
Liquid Cleaning
While dust mopping and vacuuming are great for removing crumbs, hair, and dust from your floors, they won't remove all the dirt built up over time. For a deep clean every now and then, you'll need a liquid cleaner. One option is to use a warranty-approved store-bought wood-cleaning product. Another solid choice is to make a homemade cleaner using one part vinegar to 10 parts warm water. You could also add a few drops of a plant-based soap like liquid castile soap. Just the water and vinegar mixture alone are sure to make your floor shine, but the added soap is helpful if your floor is especially grimy. If you're feeling fancy, you could even add a few drops of essential oils to make your floor look clean and smell like a spa.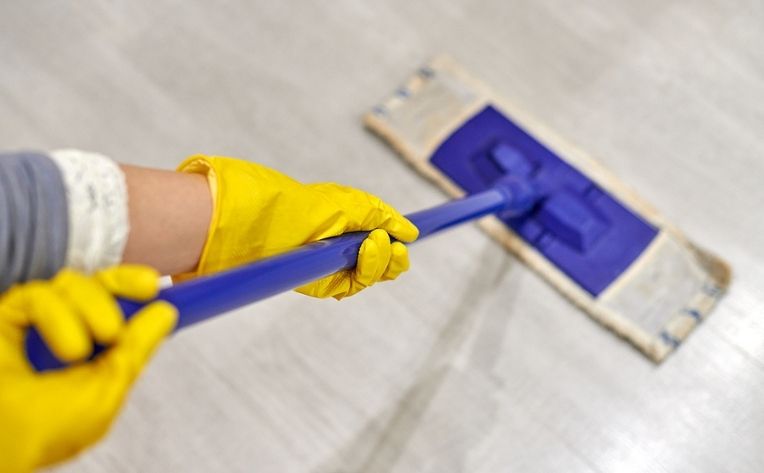 When using liquid wood floor cleaners, cover a rag or sponge mop in the cleaning solution and wring it out to ensure that it is damp but not wet. If it's too wet, moisture can seep into the floor and cause it to warp. Once you've mopped the floor, rinse the mop, wring out excess water, and damp mop the floor again to remove the cleaner. Make sure there's no moisture left on your floor by wiping up any excess with a dry towel.
Steam Cleaning
As a general rule, never steam clean wood floors. Steam cleaning can work on floors that are fully sealed, meaning they won't absorb any moisture, but more often than not, hardwood floors are not sealed and therefore should not be exposed to steam. The heat and moisture from steam mops can cause wood floors to warp and never recover. Remember—moisture is the bane of hardwood floors' existence.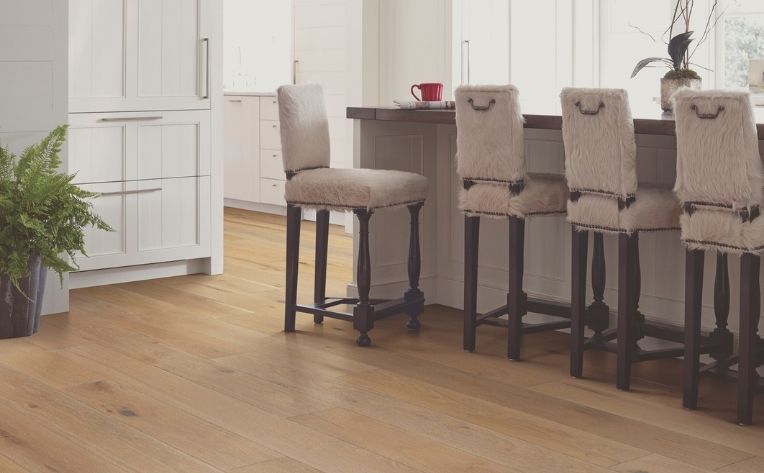 No matter what cleaning method you're considering, remember to always check your floor's warranty before committing to one. Whether you just got new floors and want to keep them in good shape, or you suspect you've been cleaning them wrong for years, your local Flooring America experts are here to answer all of your questions. Our flooring specialists are happy to help with all your projects, so visit your Flooring America today to start one.
Continue Reading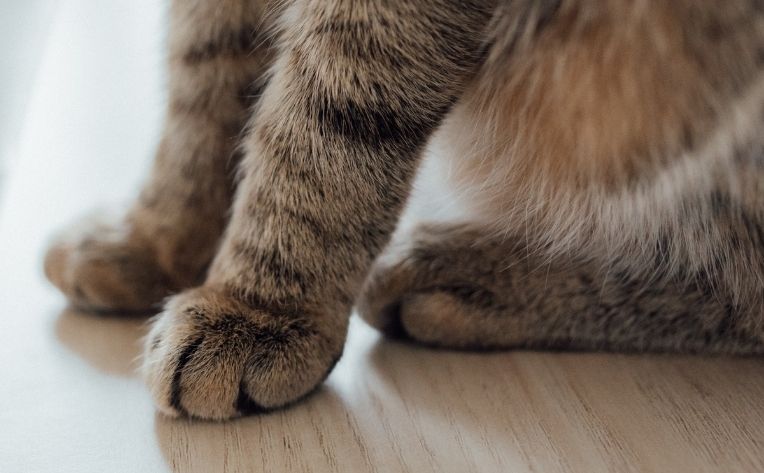 Jan 12, 2022
Oftentimes it seems like you have to choose between having beautiful floors and having floors that can stand up to everything a cat could put them through. If you're looking for the best in feline-friendly floors but don't want to compromise on style, you've come to the right place. We'll cover all the functional needs to consider and the most stylish and feature-laden flooring solutions that meet your needs.
Issues to Address
Here are the issues that cats bring to the table (or should we say the floor):
First and foremost is pet hair. No matter what, you'll find yourself in a constant battle with pet hair. Depending on your cat's coat color, you should think about selecting a floor color that could help mask small amounts of fur in between your regular cleaning schedule. You'll also want a material that is easy to vacuum since that is the most efficient way to remove cat hair.
Scratch resistance is another feature you'll want to account for when shopping for floors. Even the tiniest of claws can still scratch your floors, depending on the durability of the material. Many floors these days are designed specifically to prevent scratches, which should help narrow down the options you have to choose from.
And even the best-trained cats may still be susceptible to the occasional accident. That being the case, looking for a floor that isn't very porous but also has a waterproof or stain-resistant feature is a good idea. This may seem like a lot of features for one floor, but don't be discouraged. There's still a huge selection of beautiful floors that feature everything you need to keep your cat and your home happy. Even some carpets are waterproof now!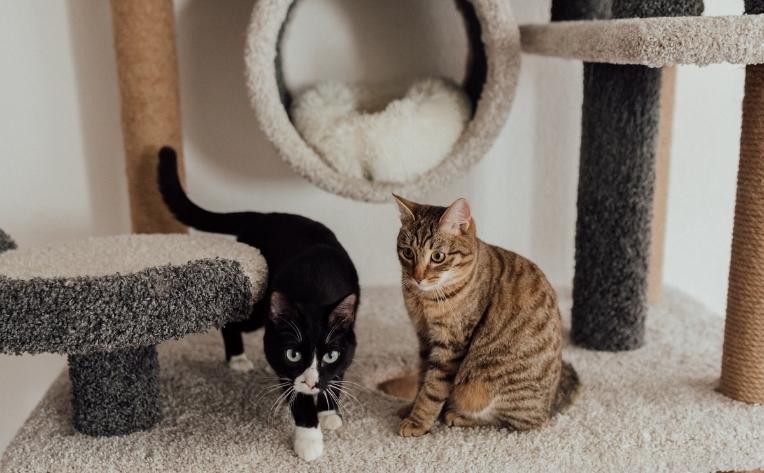 Luxury Vinyl for the Win
Luxury vinyl is a flooring material that continues to grow in popularity because of its affordability, durability, and ability to mimic other more expensive floors like hardwood, tile, or stone. Because luxury vinyl is made up of multiple layers and has a thick wear layer, it is waterproof and scratch-resistant. Plus, it comes in so many styles that you can easily find the right design for your home.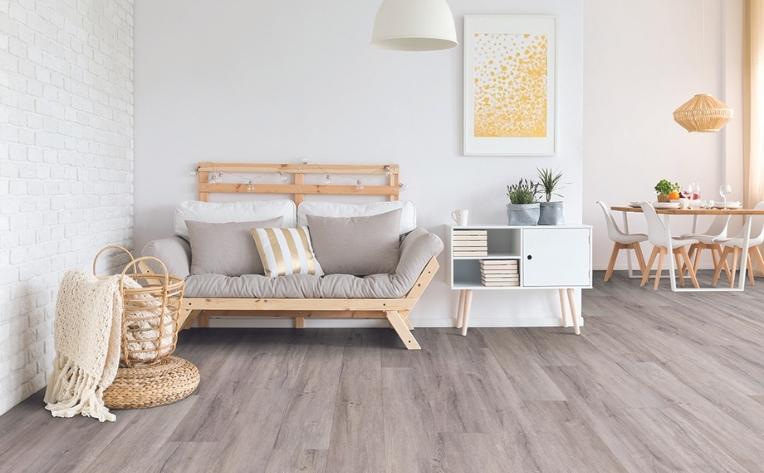 Tile's Unbeatable Durability
Another highly durable option that is perfect for your furry friend is tile. It's incredibly strength resists scratches and tile's natural properties make it extremely water-resistant. That means it will last long and clean up easily. Tile does tend to be more expensive than other flooring options but comes in different styles that vary in price. If you can't afford to replace all the floors in your house with tile, it may be a good idea to just replace the floors in the areas where your cat spends the most time, like around their litter box or food bowl.
Opt for Lighter Hardwoods
If you're set on the elegance and charm of hardwood floors, don't worry, you can still shop for certain types of wood floors that lend themselves better to cat homes. Look for lighter-colored woods to better hide cat hair, paired with a low-shine finish to give it more of a rustic look and conceal scratches. The less perfect your hardwood floors are to begin with, the less any cat-based damages will stand out.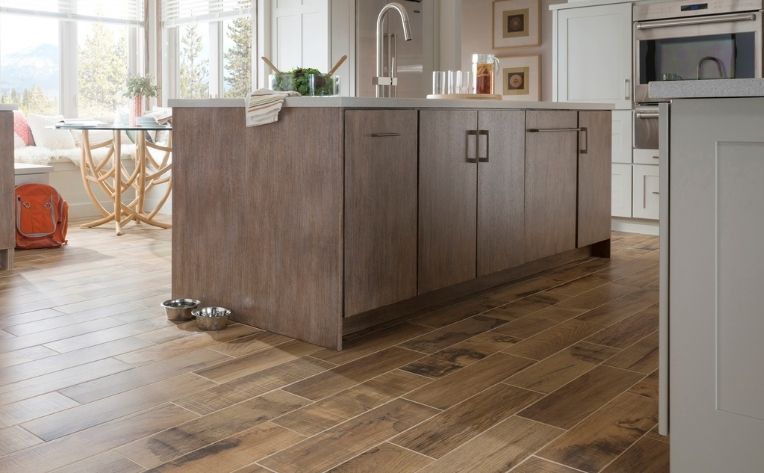 Low-Maintenance Laminate
If you're okay going the composite route, laminate and linoleum are incredibly low-maintenance flooring materials. These composite materials offer a little more cushion than some harder surfaces, which can help not only your joints but your cat's paws as well. They're some of the most durable flooring options out there, so you won't have to worry about scratches as much, and they are very easy to clean, no matter what surprises your cat has in store.
If you have any other questions at all about which type of floor is best for your cat and your home, reach out to the flooring experts at your local Flooring America. Some people are cat people, some are dog people, but we're floor people. Our experts are passionate about floors and making it easy to find the right one for your home and your lifestyle.
Continue Reading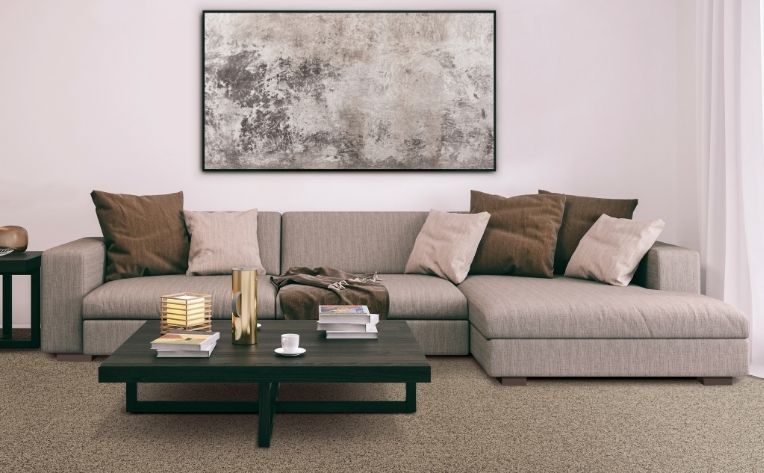 Jan 05, 2022
With so many different options for flooring and climates varying across the country, it is true that some flooring materials are far better in certain climates than others. So, how do you know which is the right one for your home and climate? We'll take you through some options and let you know all the pros and cons of each.
Tile
Whether it's porcelain, ceramic, or stone, tile is a great flooring option for most climates. It's long-lasting, incredibly durable, and easily cleans up to look shiny and new again. Tile is cool to the touch and water-resistant, which makes it great for warmer or humid climates. But in colder ones, you might prefer something a little warmer underfoot. Another non-weather-related note about tile that may impact your decision: If you live in an area prone to earthquakes, tile may crack under too much pressure from that type of movement and need to be replaced.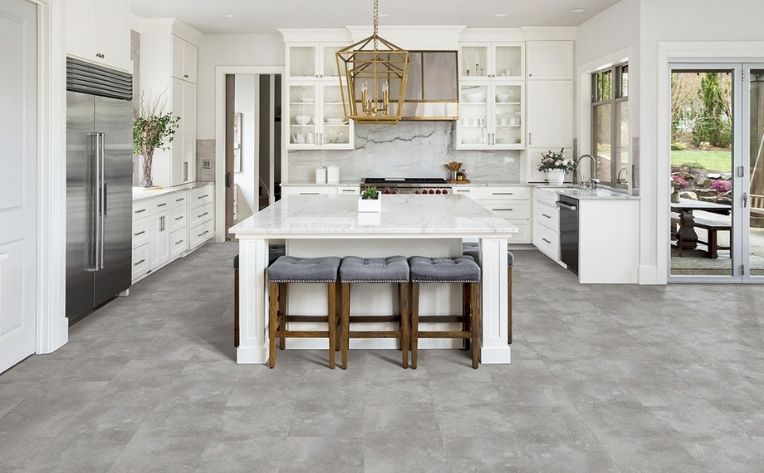 Luxury Vinyl
Available in tile, planks and sheets luxury vinyl is made to mimic the looks of wood or stone and is a great option for colder climates because it doesn't expand or contract like other natural materials. It's extremely strong and easy to clean while also being a little warmer to the touch than something like tile. If you're considering radiant heat under your floors, luxury vinyl's durability makes it a great option.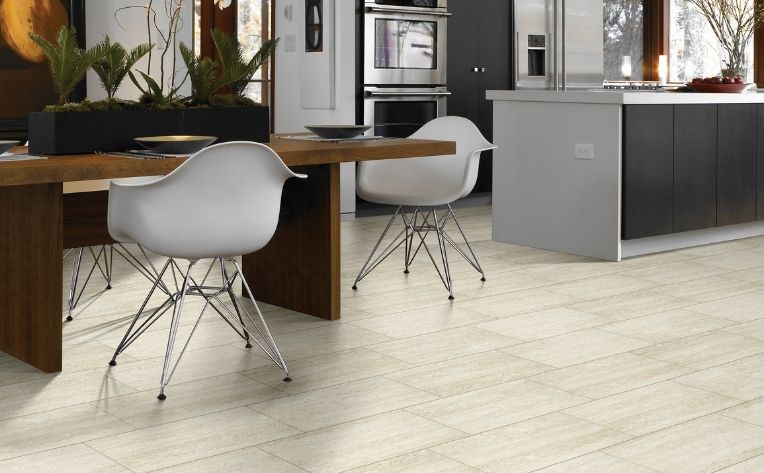 Carpet
Carpet is a great choice for almost any climate. The benefits of a carpet in a cold climate are obvious as the warm fibers help to insulate your home. It's like a blanket for your feet. But if you live in a damp climate, those fibers can retain moisture that will cause problems with mold and mildew pretty quickly. This means that in wetter climates, carpets will require more frequent care than other less absorbent materials.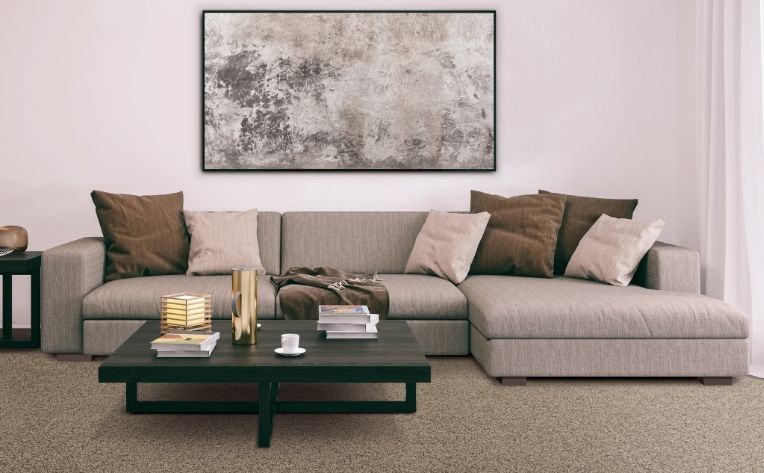 Hardwood
If you live in an extreme climate, hardwood floors may not be for you. If it's too dry, they could crack. But if it's too humid, they could swell up and buckle. Because of this, hardwood is the Goldilocks of floors when it comes to climates. The good news is that most of these issues can be eased with a high-quality sealant. Talk to a flooring professional when selecting hardwood for your home as certain species and certain finishes might adapt better depending on your home's climate.
Laminate
Laminate floor design has come a long way and is now almost indistinguishable from real hardwood. So, if you love the look of hardwood but want something that costs less and requires less maintenance, check out laminate floor styles. They have insulation like vinyl floors, so they warm up a little bit faster for your bare feet. You can easily add an extra layer of insulation during installation. But be careful if you live in a wet climate: If water seeps in where the laminate meets the wall, the planks tend to expand and warp. Once that happens, they'll need to be replaced.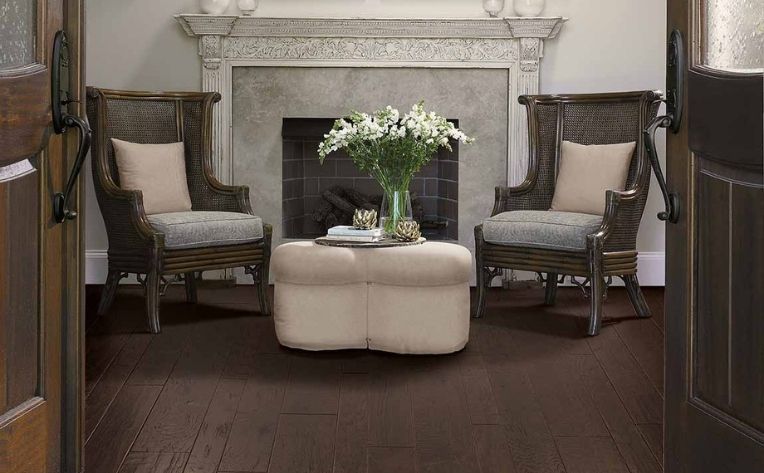 If you are still unsure about the right flooring material for your climate, there's no one better to ask than your local flooring expert. Every Flooring America is locally owned and operated, so you can rest assured that our flooring professionals know the best floors for your home's climate.
Continue Reading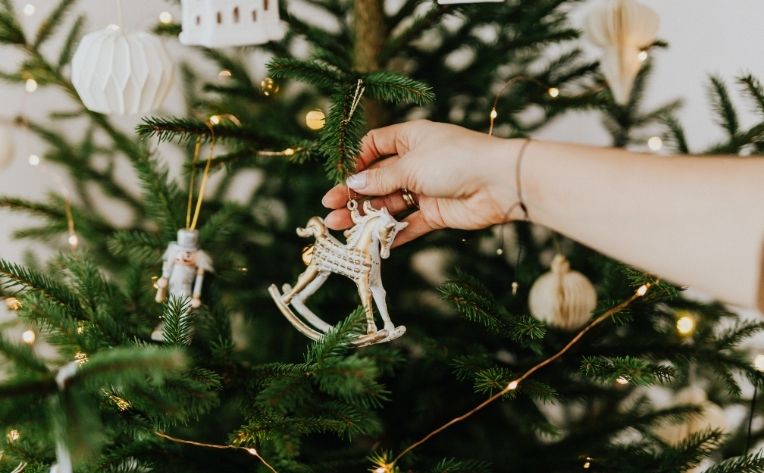 Dec 15, 2021
The holiday season is upon us, which means that most folks will be dragging pine trees in and out of their houses over the next few weeks. But while you're filling your house with cheer, it's important to remember that these festive firs could do a real number on your floors if not treated correctly. Here are our top tips and tricks to protect your floors from Christmas trees.
Prep your space
Pick a place in your house that is easy to see in, under, and around your tree and your stand. You'll want to sweep, vacuum, and clean that spot thoroughly. Any dirt or debris caught underneath could potentially damage your floors under all that weight for several days in a row. Double-check that your stand is stable and that the bottom isn't going to scratch your floor if the tree is moved or spun around.
Set your skirt
Christmas tree skirts have come a long way since the hand-stitched one wrapped around your grandmother's tree. Now you can buy all sorts of mats, trays, and tree-sized bags to protect your floors from spilled water or fallen needles. Whichever you decide, make sure you're limiting the potential for water damage. Stands can be overfilled, or water can get knocked out onto the floor quite easily. If you are unable to wipe it up right away, it may seep into absorbent materials and trap the water against your floors for as long as you have your tree.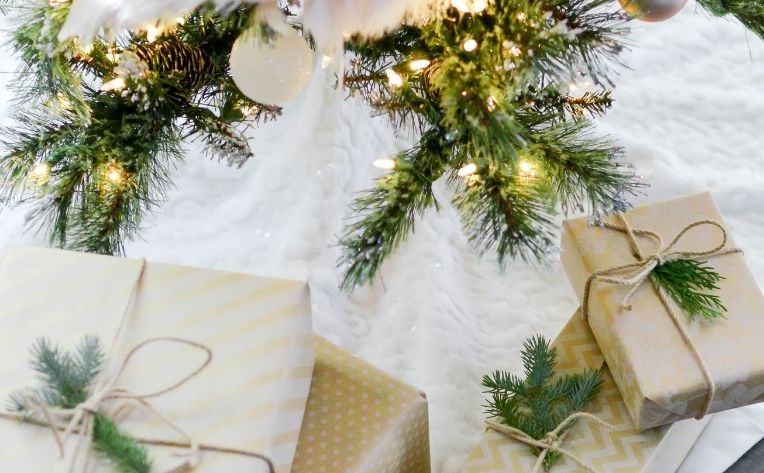 Prep your tree
Before you bring your tree inside, whack the trunk straight down on the ground, preferably on the pavement, a few times. This will help any loose needles fall out before they make their way into your house and greatly reduce your chances of finding them in a corner in the middle of June.
Garbage bags are key
Large garbage bags can come in handy when moving your tree in and out of your house. They are the perfect tool to catch loose needles from falling off and being scattered all over your house while moving the tree. When you're ready to bring your tree into the house, place one garbage bag around the base of the tree and pull it up as high as it will go to cover as many branches as possible. For big trees or small trash bags, you can also place a trash bag over the top of the tree to cover additional branches. Just be sure to remove this bag before you stand your tree upright, or all the needles it catches will fall out.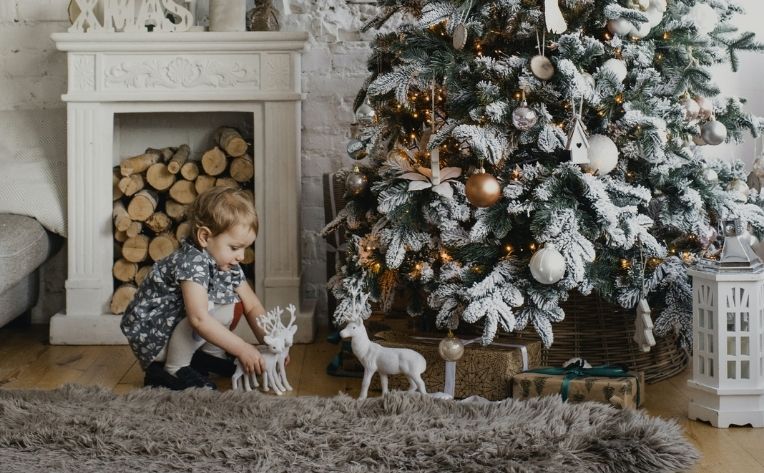 A helping hand
Moving a Christmas tree can be a nearly impossible task on your own because of its size and awkward shape. Ask someone to give you a hand when moving it in and out of your house. With at least two people, you won't have to worry about the tree dragging against your floors. You can also coordinate a route from outside to your tree stand that allows you to carry the tree trunk first through any doorways or narrow areas. This will also help reduce the number of needles that fall off before it's back upright again.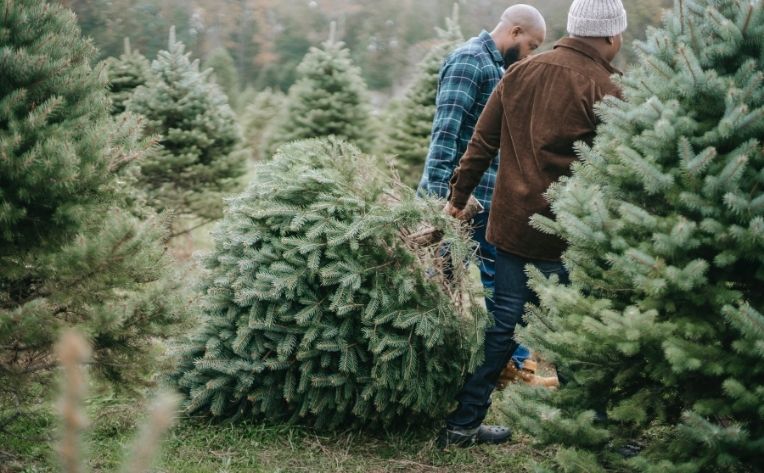 Decorating tips
Be careful where you place certain ornaments on your tree. This seems obvious, but we think it's worth noting since we're constantly hearing about floors being damaged by fallen ornaments. Lighter-weight ornaments don't tend to cause too much damage to your floor, but some of those heavier ones can potentially leave dents depending on the height at which they are placed. That's why we recommend placing heavier ornaments on the lower limbs of your Christmas tree or securing them tightly to the thicker branches throughout.
Upkeep
Keeping your tree hydrated will help it retain as many needles as possible for as long as possible. Just make sure you don't overfill or spill water out of your tree stand—as we said before, this has the potential to cause water damage and stains to your floor. Try to sweep and vacuum around your tree as often as you can. This will stop any needles from being stepped on and dragged across your floor, which may scratch them as well.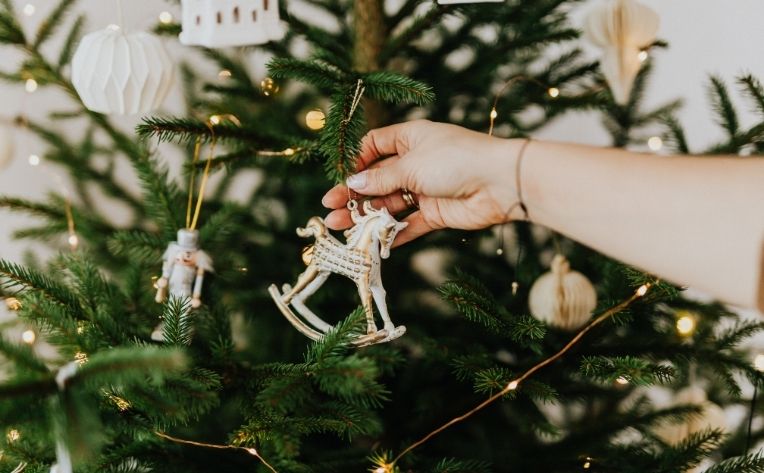 For more ideas about keeping your floors protected, or if you're reading this and realize you need more than some tips—you need new floors—contact your local Flooring America and talk with one of our experts. They can help your home stay holiday-ready and send you on your merry way.
Continue Reading